Allied Express Sports Update 23 February 2019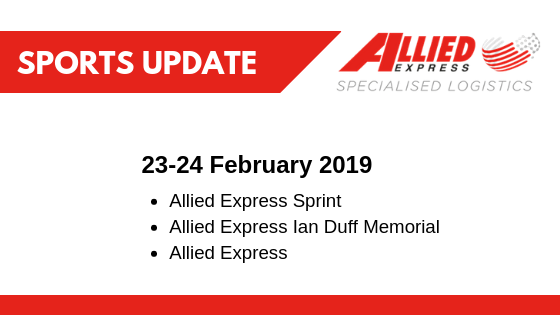 Allied Express Weekend Sports Wrap Up
It has been a busy weekend for Allied Express in the Harness racing industry with a total of three sponsored races being run last weekend, namely the:
Allied Express Ian Daff Memorial –Tabcorp Park Melton, Victoria
Allied Express 2YO Classic –Tabcorp Park Melton, Victoria
Allied Express Sprint –Tabcorp Park Menangle, New South Wales
With all 3 races held on Saturday afternoon/ evening it made for a fast paced, exciting and nail biting agenda. If you weren't paying attention you most likely would have missed one or two of the races.
Race 1: Allied Express Ian Daff Memorial
The first race to kick off this weekends harness racing was the Allied Express 2YO classic held at Melton Park, Victoria. In a tight field, the winner Summertime NZ made for a line down the sprint lane to claim victory! Congratulations to trainer Ted Caruana.
Race 2: Allied Express 2YO Classic
The second of the three races on Saturday was also run down at Tabcorp Park Melton was for the Allied Express Ian Daff Memorial. With a commanding lead from the start winner 'Reciprocity' could not be beaten to the post. Although there were some challengers hot on the heels none could match the strength and stamina of the winner. Congratulations to driver Kerryn Manning and Trainer Peter Manning
Race 3: Allied Express Sprint
The third and final race held on Saturday was that of the Allied Express Sprint held at Club Menangle. Being the final qualifying race before the flagship event the Ainsworth Miracle Mile there was enough tension in the air you could cut it with a butter knife!
With so much hype surrounding the contenders Poster Boy and Tiger Tara bringing much speculation to the fore it was always going to be a fantastic race.
The victor of the Allied Express Sprint was 'Thefixer'. Another very close race was won, with Tiger Tara being pipped to the post with Thefixer getting a nose in front at the last second. Congratulations to 'Thefixer' driver Natalie Rasmussen and trainer Mark Purdue!
Miss all the action of the Allied Express sprint? We've got the full replay for you below – you're welcome
Manage to get to the action and take some snaps of the action? We'd love for you to share them and tag Allied Express with the following hashtags: #AlliedRacing #AlliedExpress or #Allied40
And that completes the weekend's sporting activities!
Until next time, keep on shipping!
Regards,
The Allied Team