Allied Express appoints VIC State Manager; Adrian Fortuna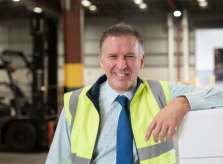 Sydney, NSW: Allied Express Transport are continuing on the wave of positive announcements this week, with today announcing the appointment of Adrian Fortuna to the role of Victorian State Manager.
Colin McDowell, CEO of Allied Express, said in a statement "We're very happy that Adrian has accepted position as State Manager and equally as happy to be able to promote from within. Adrian is a man of high integrity who will lead the team to greater brand awareness and revenue growth in Victoria. We are a family-oriented business with a culture of honesty and reliability - Adrian is the perfect fit!"
Customer's will know Adrian well as he has been working in Victoria for Allied Express in various roles starting out as a Radio Room controller.
Allied Express who are celebrating their 41st year in operation, also announced this week their partnership with Supercars. This will include supporting events for the remainder of 2019 and again in the 2020 season.
At Allied Express we pride ourselves on our association with Australian professional and non-professional sports, we have a long history of sporting sponsorship commencing in 1978 with the sponsorship of the Bankstown Paceway Billy Cart Championships.
Our long-standing sponsorship of Wests Magpies supports our goal of the development of young people for the future.
Allied Express is also strong supporters of Harness Racing breeders, trainers and drivers throughout NSW and sponsors a multitude of races each year.
Appointing Adrian and adding Supercars to our sporting Sponsorships this week demonstrates Allied Express's ongoing commitment and support in the community and for Australian sport.